Northampton's Fishmarket puts on its last exhibition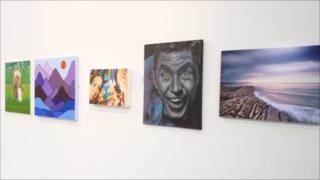 A Northamptonshire gallery hosts its final exhibition in a building it has called home for five years.
The Fishmarket Gallery on Bradshaw Street in Northampton will be knocked down in 2012 to make way for the new bus station.
More than 100 works were submitted and 44 artists were selected for the exhibition.
Sarah James, from the gallery said it was a fitting tribute to "send off the venue".
She said: "It is giving back to the community that has supported us since we got established."
'Beautiful space'
The Northampton Arts Collective (NAC), an independent arts organisation, moved into the building in 2006.
It was formerly the town's old Fishmarket which was built in the 1930s and was once a bustling and vibrant part of the town.
When the group moved into the building it was in a dilapidated state with a leaky roof.
The NAC turned the venue into a home for the arts and creative business housing some shops, artists' studios and a cafe bar alongside two independent gallery spaces.
"It is freezing in the winter, but it is a beautiful space and the light is amazing because of the skylights through the top of the building." said Ms James.
Northampton Borough Council has said it will continue to help the NAC to find a new location for its work.
"We are in talks with the borough council for a couple of buildings in the centre of town. We are hoping for somewhere that would be a more permanent home," said Ms James.
The work on display for the final exhibition was selected by Antony Spira, director of MK Gallery and Darren Banks who is based in Northamptonshire. Amateurs, students and professionals have provided the artwork.
Verity Millgan, who has some of her work in the exhibition, said: " It will be a proud moment to see my work on display and I hope the Fishmarket will continue to support the arts in Northamptonshire long after the venue has changed."
The exhibition will be on at the gallery until 31 December.