Anglian Water granted drought permit after dry spring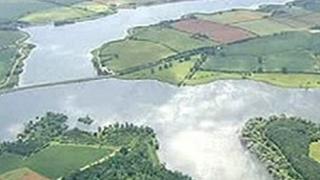 Anglian Water has been granted a drought permit after the driest spring in East Anglia for 80 years.
The Environment Agency (EA) said the firm could extract extra water from the River Nene, in Northamptonshire, to replenish the half full Pitsford Reservoir.
The reservoir supplies homes in Northampton, Brixworth and Daventry.
The EA said it would be "closely monitoring" any environmental impact on the river.
Reservoirs are usually topped up at this time of year in preparation for summer.
But due to low river flow in the Nene, the storage levels at Pitsford dropped below the Anglian Water target.
Ciaran Nelson, from Anglian Water, said: "We saw an average 20% less winter rainfall in our supply region.
"This was then followed by the driest spring in over 80 years and rainfall remained exceptionally low.
"Levels of water in the Nene improved slightly in the summer, but not enough to refill the reservoirs to an acceptable level."
Environment checks
The company said it applied for the permit to secure supplies after fears of a prolonged winter dry spell.
It had to ask for permission from the EA because the river was below the level when water abstraction is allowed.
The EA said the company had been asked to show it had done "everything possible" to reduce demand before the permit was granted.
A campaign is under way to encourage people to cut down on wasting water.
David Hawley, of the EA, said: "We will be closely monitoring the River Nene for any environmental responses to the increased abstraction of water from it.
"The permit requires Anglian Water to cease abstraction if the level or quality of the river is compromised."
The EA said taking water from the river in the summer would have caused more damage because fish and plants were more active.