New brighter street lights welcomed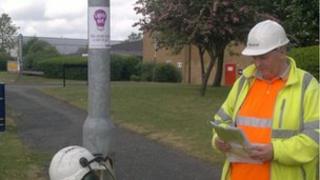 Work to replace the Northamptonshire's street lights has started in Corby.
Bright LED lights have been fitted and turned on in some areas of the town as part of a private finance initiative (PFI) agreement with contractor Balfour Beatty.
The county council had turned off half its lights as an economy measure before the PFI agreement was concluded in June.
Campaigners for better street lighting have welcomed the work.
Tony Clenaghan from the Corby Street Lights campaign group said: "I think it is brilliant.
"I know some people have criticised them for being so bright, but because they are brighter you need less of them.
"Where I live we have one (old) lamp off in the middle of the road and that area is totally dark - just one of these new lights would light up most of the street.
"They are more energy efficient and they will make the area safer."
So far work to replace the lights has taken place in Copenhagen Road and Glyndbourne Gardens in Corby.
The next stage of the work will be to change lights in parts of Higham Ferrers.
Areas where there are street works, high levels of crime or high accident rates and where major events are taking place will take priority in having the lights replaced.
Councillor Andre Gonzalez De Savage, county council cabinet member for infrastructure and public protection, said: "People will see a real difference in the quality of the lighting and the technology is such now that light pollution is greatly diminished."
Pat Walsh, general manager for Balfour Beatty, added: "We are pleased to support the county council in improving the environment for those who live, work and travel in Northamptonshire."