Residents lose their fight against Nun Wood Wind Farm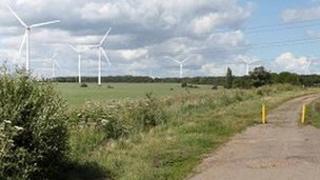 Plans for a twelve turbine windfarm between three villages have been approved following an appeal.
The windfarm will be sited between Bozeat in Northants, Harrold in Beds and Lavendon in Buckinghamshire.
Villagers had opposed RWE npower's Nun Wood Wind Farm application for six years and councils in those areas had also rejected the company's plans.
But a planning inspector said the need for renewable energy outweighed the visual impact of the turbines.
Campaigners say they may appeal.
Those belonging to the protest group, Bozeat and Lavendon Oppose Turbines (BLOT), say they now have six weeks to decide whether or not to take the case to the High Court.
Campaigner Brian Skittrall said he haD already received offers of financial support.
"We are investigating the options of challenging that decision. You can go to the high court and we are investigating that option," he said.
Clean energy
However those behind the scheme are confident that the project will go ahead and have pledged to work with the community during its development.
Matt Pinfield, Regional Manager for Eastern England at RWE npower renewables, said: "The Nun Wood Wind Farm will make a substantial contribution to clean energy supply and the reduction in emissions of greenhouse gasses.
"As a responsible developer we will continue to work with the community throughout the next stages of the project as the wind farm is constructed."
The planned operational period will be 25 years and the scheme would meet the average annual electricity needs of between 13,700 and 15,600 homes, it is claimed.