Wicksteed Park unveils plans to restore its main lake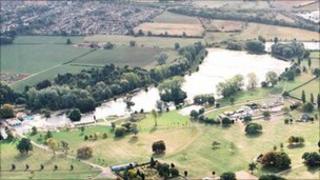 Plans to restore the main lake at a Northamptonshire amusement park have gone on display this week.
Visitors to the Newlands Centre in Kettering, where the scheme is on display, will be asked for their views on the idea to make Wicksteed Park's lake a main attraction.
Wicksteed is applying to the Heritage Lottery Fund for funding towards the cost of the £1m plan.
Trevor McHugh, from the park, said the scheme would attract visitors.
Mr McHugh, who is co-ordinating the bid, said: "Lack of funding has prevented the lake from reaching its full potential as an environmental and learning resource for the local community and the large number of visitors who use the park."
Mr McHugh said that should the scheme go ahead, Wicksteed Trust would create new habitats for wild animals and improvements to enable people to better access the lake.
Wild camping
The lake would be cleared by removing hundreds of tonnes of silt and making the concrete edges softer and more natural.
The trust has a vision for Wicksteed Park as a place for nature activities and wild camping.
Mr McHugh added: "It is a very exciting time for Wicksteed and a great opportunity for Kettering.
"Away from the rides, which everyone knows, Wicksteed Park has over 60 acres of green space and 90 years of providing children's play which I'm sure will provide inspiration for a wealth of heritage and environmental projects."
The plans will be on display at the Newlands centre until Saturday during shopping hours.
-