Drug seizures in Northamptonshire show 'startling rise'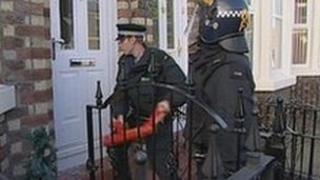 The increase in the number of drugs seizures by police in Northamptonshire has been described as startling but necessary by the force.
Home Office figures show there were 2,147 seizures in the county between 2010 and 2011 compared with 1,501 the previous year.
Cannabis made up the majority of the drugs found - much of it from buildings used as factories to produce the plant.
Det Sup Mark Behan said many raids followed tip-offs from the public.
"I think the thing with drugs is that the more that you look the more you will find," he said.
"We have made concerted and very targeted efforts to crack down on this.
"Although the drug figures are startling the bigger picture is that crime is falling significantly - in fact double the national average. All of these activities are interlinked."
The raids were carried out as part of Operation Guardian - a police initiative that includes regular "high impact" days which often involved raids on homes.
Neighbourhoods 'blighted'
Police say they have had huge support from the public who have been keen to report anti social behaviour.
Mr Behan added: "There has been a number of operations not based on crime intelligence but based on good citizenship, where people have come forward, flagged things up and then that's given us the impetus to get on and do what we do.
"We have found quiet suburban houses full to the rafters with cannabis plants. (Drugs) blight the lives of the neighourhood."
Last year Operation Guardian was credited with some of the work behind figures that showed that robberies, burglaries and vehicle crime in the county in the year leading to March 2011 were down 22% on the year before.