Northampton club Lava Ignite licence ruling after crush deaths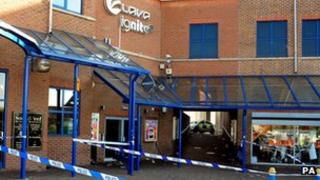 Whoever takes over the Northampton nightclub where two young women were crushed to death will have to apply for a fresh licence, the borough council's licensing committee has said.
Two students, Nabila Nanfuka, 22, of Neasden, north-west London, and Laurene Danielle Jackson, 19, of Wembley, north-west London, sustained fatal injuries at Lava Ignite on 19 October.
The venue has stayed closed ever since.
The club closed for good when Luminar, which ran it, went into administration.
Chris Malpas, chair of the licensing committee, said: "Representatives of the administrators of Luminar have provided the committee with an assurance that the licence for Lava Ignite in Northampton will not be reinstated."
A police investigation is taking place and so far about 100 people have come forward with their accounts of what happened at the club.
Some eyewitnesses have described a "stampede" taking place as club-goers made for the exits at the end of the night.