'Innovation Cube' building plans unveiled for Northampton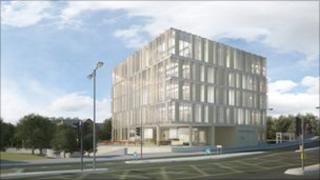 A landmark building could be built opposite the railway station in Northampton.
Plans for a five-storey glass building have been submitted by the West Northamptonshire Development Corporation (WNDC).
The building, called the Innovation Cube, will provide office accommodation for up to 60 businesses.
It is estimated to cost about £6.5m, which will be paid for using WNDC money and a grant from the European Union.
The Innovation Cube is part of a planned Station Gateway development to include new homes, offices and shops along the River Nene.
Chris Garden, director of regeneration at WNDC said: "It's a flexible building where small and large businesses will be able to make connections with all other businesses within the cube, so it would be really dynamic."
The station gateway scheme is part of the Northampton Enterprise Zone which is an area set aside for regeneration and attract new businesses to the area.
WNDC is also trying to attract funding from the private sector for the project. "We need to make the public sector funding work as hard as it can as you would appreciate in the current economic climate," said Mr Garden.
If the plans are approved work could start in the summer of 2012.