Wollaston wind turbine protesters fly blimp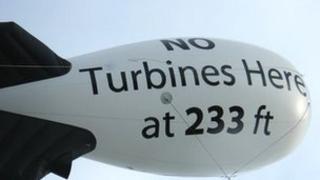 A blimp is being flown over a village in Northamptonshire in protest against plans to build two wind turbines.
It is being flown at 71 metres, (233ft), the same height of the planned turbines at Wollaston village near Wellingborough.
The turbines are proposed to be built at Tower farm where owners claim have ideal conditions for harnessing wind.
But campaigners, who are flying the balloon for a week, said the turbines will desecrate the landscape.
Tony Skipper, from Save Irchester Countryside, said: "We are going to have the impact of three turbine sites in the area and we think it's disproportionate to the area."
Chris Sumner, who owns the land where the turbines will be built said: "I thought wind farms were more accepted around here, certainly with Burton Latimer wind farm and other wind farms in the area."
A public meeting is to be held at Wollaston village hall on Thursday evening to discuss concerns and issues raised.
Wellingborough Borough Council's planning committee will discuss the application on 4 January 2012.