Burton Latimer waste plant fire 'out within days'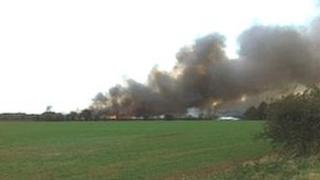 A fire that has been burning at a waste recycling plant for more than four weeks could be extinguished within days, according to the fire service.
Northamptonshire firefighters have been working around the clock to tackle the blaze since it started at Blackbridge Farm, Burton Latimer, on 9 October.
Station manager Warren Ellison said the fire should be out by Saturday.
Think Environmental Ltd, which runs the site, will then be able to start the clean up process.
A special foam concentrate, paid for by Think Environmental Ltd, has helped firefighters gain control of the fire.
Mr Ellison said: "Because of the nature of fires like this we have to start from the outside and work our way in, we can't get to the middle of it and put it out.
"The foam concentrate that we have been using has made a big difference to the progress we have made.
"The company has worked hard with us and they are ready for us to handover to them for the clean up as soon as the fire is out."
'Nearing the end'
Mr Ellison added: "There is still smoke coming from the site but we are definitely nearing the end of it now.
"As far as what is left it is easier to talk in terms of days rather than amounts.
"We are about three to four days away from the fire being out completely."
At the height of the fire residents living more than 20 miles away could see smoke and ash, and those near the site were advised to keep their windows and doors closed for as long as the fire created smoke.
The fire started just two weeks after another fire at the site which lasted for seven days.
Investigations have now been launched into the cause of both fires and the Environment Agency has confirmed that it is monitoring the effects of the fire.