Rushden Lakes shopping park plans on display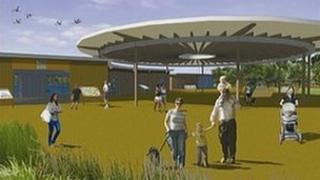 Plans for a new £40m out of town retail park in Rushden are on display in the Northamptonshire town.
Developer LXB Retail Properties hope to build Rushden Lakes on a site opposite Waitrose near the A45. The say the scheme could create 1,500 jobs.
The company owns the land and has already been in consultation with the council and a planning application is expected to be put in later this month.
The plans are on display at Rushden Hall until Saturday at 14:00 GMT.
Tim Walton, chief executive of LXB, was confident the scheme would go ahead and said it would not be a threat to the town centre.
Mr Walton said: "We are building quite large units here. It's floor space you can't get in the town centres. It isn't a threat, we see it as being as an addition to the town centre."
However, some traders are concerned that the development could have a serious impact on the town centre.
Louise Knighton, owner of Granny Bubbles sweet shop on the High Street, said: "We have had a hard time with the road works going on on the High Street. I think we will wait and see the exact details."
Steven North, leader of East Northamptonshire Council said he welcomed development but recognised there were concerns over the impact an out of town shopping park could have on the town centre.
Mr North said: "Generally we are in need of a boost in the East Northamptonshire region.
"There is a lot of spending in out of town in places like Milton Keynes, we are losing a lot of money to development out of the area.
"We need more developments in this area, we need people coming to the place, and we need the jobs."