Kings Cliffe radioactive site protesters lose challenge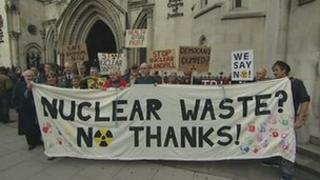 Campaigners fighting proposals to use a landfill site in Northamptonshire to dispose of low-level radioactive waste have lost a High Court legal challenge.
Plans by waste company Augean for the plant at Kings Cliffe near Peterborough were approved by the government in May.
Villagers near the site mounted a legal challenge to the scheme, arguing it would pose a serious health risk.
They also said the government was ignoring its own commitment to "localism" by approving the project.
The decision marks the end of a two-year legal battle between Augean and campaigners.
'Lawfully entitled'
Northamptonshire county councillors unanimously rejected plans for the site in March 2010.
But Communities Secretary Eric Pickles granted planning permission for the waste site in May this year.
Villagers and the campaign group Waste Watchers raised money to fund legal action to fight the ruling.
But Judge Stewart QC, sitting in London, ruled that Mr Pickles was "lawfully entitled" to make the decision he did. He added that there was "no taint of irrationality".
Campaigners were ordered to pay £5,000 towards the government's legal costs of defending Mr Pickles' decision.
Protester Louise Bowen-West said the decision was a "foot in the door" for long-term radioactive waste disposal at the site.
"Because we're a tiny community they can stamp all over us," she said.
'No health risk'
The issue has been highlighted by the campaign group as a test case for the government's commitment to localism.
It is a policy which would allow local communities to make decisions rather than ministers and officials in Whitehall.
The Waste Watchers group has said it believes the site will take construction rubble from decommissioned nuclear plants.
Augean said the plant would pose no risk to human health.
It said the maximum radiation dose members of the public could receive was so tiny it should give no cause for concern.
After the ruling, a spokeswoman for the firm said: "The challenge was made on a narrow point of law and did not relate to the safety or the policy merits of the proposal."
The facility could be up and running within weeks.