Whitworth football club fire 'was arson'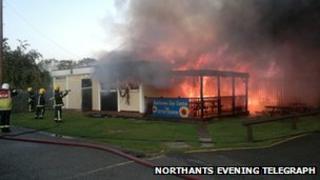 A fire that gutted a Northamptonshire football team's clubhouse was started deliberately.
An inquiry by the fire service into the blaze at Whitworth Football Club's building on London Road, Wellingborough, on 18 October found the fire was arson.
Fire investigation officers also found that the club had been robbed of drinks before it was set alight.
Police are treating the case as arson and are appealing for information.
Whitworth Football Club's secretary Julian Souster said: "It makes you wonder about people. I don't know if the person or people who did it knew how many people would be affected.
"We have lost so much from the club, and it has had an impact on all of the people who use the club, including the disabled adults who attend the Sunflower Day Centre and the members of Wellingborough's dog club."
Mandy Brough, a partner at the Sunflower centre for disabled people, which was based at the clubhouse, said she was saddened by the fact that the fire was started deliberately.
Mrs Brough said: "I am shocked. We had a big sign outside saying that we are a day centre so whoever started the fire must have known it was a day centre.
"To find out that someone did that, lit a fire, deliberately - I am lost for words."
Northamptonshire Police are appealing for witnesses and any information.