London 2012: Northamptonshire Olympic torch celebration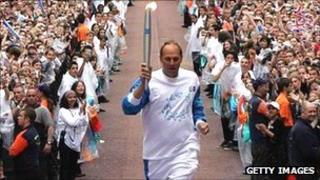 Officials are planning to put on a "great show" for people in Northamptonshire when the Olympic torch comes to the county.
The organisers of the London 2012 Olympic celebrations have revealed that the torch will visit on Monday 2 July.
It will be carried through Northampton, Wellingborough, Isham, Kettering, Geddington and Corby.
Chris Holmes, the director of Northamptonshire Sport, wants everyone to get involved.
He said: "We will work with schools and community groups to give a Northamptonshire-flavoured welcome to the torch."
Councillor David Mackintosh, the new leader of Northampton Borough Council, said: "I'm really pleased our town will have the honour of hosting the torch, if only for a short while, and that local people will have the opportunity to get involved in this once in a lifetime event."
Chris Mallender, who chairs the county's 2012 Olympic steering group, said communities along the route could benefit and plans were being made for events.
The torch will pass through the county on day 45 of its tour and Mr Mallender will now forge links with the four main local councils to plan a range of cultural events.
"We are going to put on a great show for the people of Northamptonshire," said Mr Mallender.