Whitworth Football Club's memorabilia appeal after fire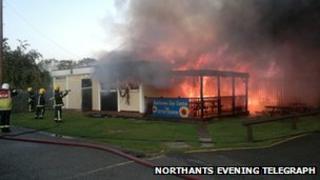 A football club has appealed to the community for memorabilia following the destruction of its clubhouse in a fire.
Members of Whitworth Football Club, in Wellingborough, have called on former players and the community to help to replace the collection that was lost in the blaze on 18 October.
The clubhouse on London Road had housed memorabilia dating back to the 1950s.
A meeting is due to be held by senior members of the club's committee to discuss the future of the clubhouse.
Club secretary Julian Souster said: "We need to discuss ways to fundraise for the club.
"While the replacement of the actual building is hoped to be covered by insurance we need to raise money for the club itself.
"We will also need to decorate it, and this is why we want the memorabilia."
He said the pictures "give the members a sense of the club's history, and a clubhouse needs that".
Mr Souster added: "We have already had a few calls, one from a former player offering us some pictures, but we are appealing for more.
"We would copy pictures if people wanted to keep the originals.
"We are looking for anything from the club's history, pictures, cut-outs from newspapers, medals, pictures of people in the old clubhouse, anything like that that relates to the football club."
The club can be contacted through its website.