Cow makes its mark on Northamptonshire football match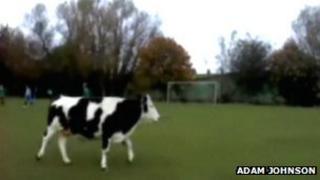 A cow has halted a football match after it wandered on to a pitch in Northamptonshire.
The cow ran on to the pitch at Potterspury, near Towcester, as the home team was playing Southcott Village Reserves from Bedfordshire.
The game, which started at 15:00 BST on Saturday, was interrupted by the cow which came from a nearby field.
The cow relieved itself near a goal and stared at some of the players before being shooed off back to its field.
Adam Johnson, who has played for Potterspury for 15 years, said: "Ten minutes into the game the ref blew his whistle.
'Thunderous charge'
"The referee said: 'There's a cow on the pitch'. The cow was wandering around the pitch for a minute or so… staring the players and the referee out.
"Then it decided it was time for a number two 25 yards from goal.
"After a number two it wanted to check out the fans."
He said the cow then "turned her attention to the 22 players and the referee with a thunderous charge".
"Potterspury number four, Micky Owens, finally rounded the cow up and chased it back to the field where it came from," he said.
The match re-started and Potterspury went on to win the game 2-1.