Northamptonshire Olympic torch celebration plans under way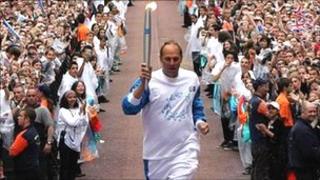 The organisation spearheading London 2012 Olympic celebrations in Northamptonshire has revealed the torch will be coming through the county on Monday 2 July.
Chris Mallender chairs the county's 2012 Olympic steering group, said he was very excited by the event.
The torch will go through Northampton, Wellingborough, Isham, Kettering, Geddington and Corby.
Mr Mallender said whole communities along the route could benefit.
"We are pleased it will be spending so much time in Northamptonshire, even though it is not an overnight stop," he said.
"It is a great opportunity for everyone to get involved."
The torch will pass through the county on day 45 of its tour and Mr Mallender will now forge links with the four main local councils to plan a range of cultural events as well.
"We are going to put on a great show for the people of Northamptonshire," said Mr Mallender.