Northampton Council's leader outlines plans for cabinet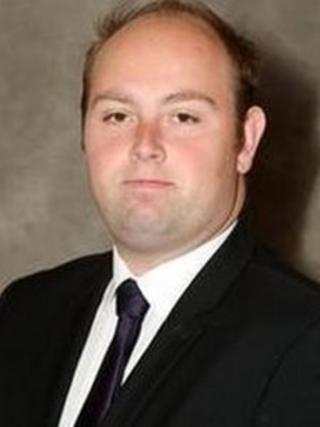 The leader elect of Northampton Borough Council has revealed the details of his new cabinet.
David Mackintosh was elected leader of the Conservative group, which controls the council, following the resignation of David Palethorpe on Wednesday.
Mr Mackintosh has announced that John Caswell will take over as the deputy leader from Michael Hill.
Mary Markham has been named as portfolio holder of housing, taking over from Christopher Malpas.
Mr Palethorpe had been leader of the Conservatives for two years when the group took control of the council in May.
He announced his resignation on Twitter, saying the decision was due to the "disloyalty and self interest" of some of his colleagues.
'Exciting time'
Northampton-born Mr Mackintosh, 32, was elected shortly after.
He has been a county councillor since 2009 and was elected to represent Rectory Farm ward in May this year.
Mr Mackintosh said: "I'm really pleased to have the opportunity to lead a great team of people at such a challenging but exciting time for Northampton.
"We will be working really hard to make the most of the fantastic opportunities opening up for our town, through projects like the Enterprise Zone and our town centre regeneration.
"We'll also be making the most of our great heritage and cultural assets to enhance the reputation of Northampton as a place to come and invest, to live and to grow.
"We are committed to making sure Northampton comes through these difficult economic times and to working with local communities to shape a great future."
Mr Mackintosh is set to be formally elected as leader in a council meeting at the Guildhall.