Northampton nightclub crush death woman 'asphyxiated'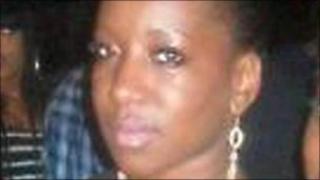 A student who was killed at a Northampton nightclub died from crush injuries, an inquest has heard.
Nabila Nanfuka, 22, of north-west London, suffered "traumatic crush asphyxiation" at Lava Ignite, Kettering Magistrates' Court was told.
A full inquest into the death of the Northampton University student will be heard at a later date.
Two young women were critically injured at the club on 19 October in what witnesses described as a "stampede".
One of the two women remains in hospital.
Six other people were injured as revellers rushed to get out of the club.
Witnesses described club-goers rushing for the exits after an announcement that coaches were leaving to take them home.
Miss Nanfuka, a leisure and tourism student from Neasden, died soon after her arrival in hospital.
A member of the event's promotions team has been arrested on suspicion of a public order offence.
Northampton Borough Council has temporarily suspended the nightclub's licence while an investigation takes place.
Luminar, the company which runs Lava and Ignite and other clubs across the county, went into administration on Wednesday.