Electric minibus trialled by Northamptonshire council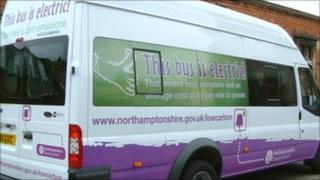 Northamptonshire County Council has replaced a diesel bus it uses to transport staff with an electric vehicle.
The minibus, used to transport staff around the county, is on trial for 12 months.
It is hoped that the new vehicle will save money and reduce carbon emissions.
Councillor Ben Smith, who is responsible for the environment, claimed: "This will make a saving of around £30,000 a year for the council."
According to the council, the savings will be made from fuel costs and the cost of leasing the diesel vehicle.
The bus will be charged at lunchtimes and overnight at two recharging points at Riverside House and Booth Meadow House.
The council will test the bus for the next two weeks before putting it into full service.
"It's not just about recycling and country parks, we want to look at carbon management and energy conservation too," said Mr Smith.