Increased demand for vintage Dr Martens fuels expansion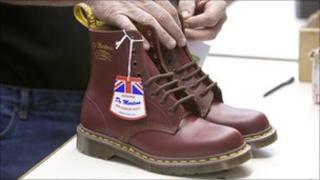 A Dr Martens shoe factory in Northamptonshire is to expand to meet increased demand for English-made boots.
The company in Wollaston relaunched its vintage-look boot seven years ago, which has become increasingly popular.
It is now taking on 12 new members of staff and four apprentices.
Factory manager Brian Clayton said: "We are looking at relocating certain machinery to another location in the village of Wollaston."
'Made in England'
Most of the company's shoes are made in the Far East, but it has found a market for English-made shoes.
"It is the concept of the traditional made in England tradesman behind the product," said Mr Clayton. "The methods and the ideology behind that is strong."
Dr Martens is looking for skilled employees and also wants nurture a new generation of shoe makers.
The company said it was finding it difficult to find skilled staff as the industry changes.
Mr Clayton said: "We have to train youngsters for the next generation of shoemaking, which is vital to the success of this business."