Gibson guitar sells for less than expected at auction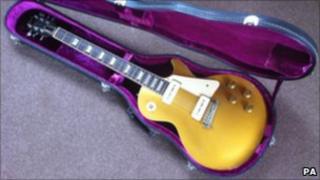 A rare, 1954 electric guitar that was estimated to sell at auction in Northamptonshire for £50,000 sold for just under £6,000.
The Gibson Les Paul Goldtop was bought by a Scottish collector.
The guitar required a lot of repair work and Jonathan Humbert, from JP Humbert Auctioneers believed this was the reason for its low selling price.
"There were marks on the guitar which would mean the buyer would have a lot of work to do," said Mr Humbert.
"It is disappointing, but sometimes things don't go quite the way you want it to."
The guitar is believed to have been used by musician Carl Perkins when he recorded his hit Blue Suede Shoes.