Yurt huts for those with disabilities at Grendon Hall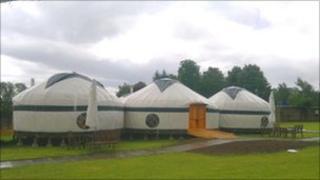 Yurt huts have been built at an outdoor activities centre, to provide overnight accommodation for children with disabilities.
The huts at Grendon hall in Northamptonshire will be available to disabled children, young people and their families free of charge.
The project was funded by the Aiming High strategy which supports families with disabled children.
A yurt is a circular tent like dwelling which originates from central Asia.
Tara Weightman, who designed the huts, said: "Yurts are very special, very inspiring structures.
"They are circular structures that are very organic, with a central skylight as a feature."
Ralph Berrisford, Northamptonshire county council commissioning manager for disabled children, said: "We thought about building a conventional log cabin, but when we consulted with young people we were told that they would like something more imaginative."
The yurts will also available for hire to the general public throughout the year.