Corby Connaughty Centre funding talks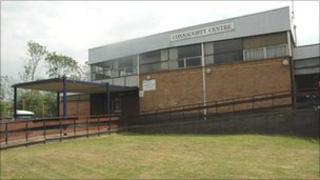 Organisations that use the Connaughty Centre in Corby have been holding talks to see if they can run the centre without county council backing.
The council, which manages the centre, is reviewing its funding.
The Connaughty Centre has helped young people in the town since opening as the Corby Youth Centre in 1969.
The centre is used by hundreds of young people and is also the base for more than 20 local organisations.
Cindy Wrighting, from Youth Works Community Interest Company (CIC) which uses the centre as a base, said: "We are trying to be creative and find out what options will be available to us."
The groups recently had a meeting with the council to find out its position.
A spokesman from the county council said: "At this stage we are looking into the possibility that the building could be identified as being surplus to our requirements for our own services."
Shanize Alton, from World Matters, said: "This building is full of a lot of services for young people in Corby. It is really valuable to us."
The consultation will continue over the next few months.