Ding murders: Family's relatives travel to Northampton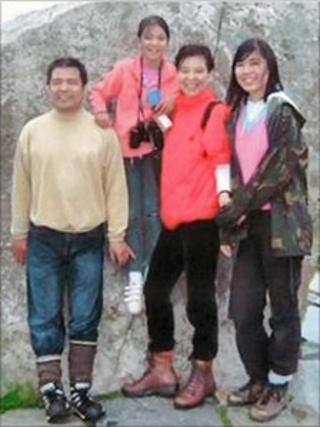 Relatives of a family-of-four from Northampton found stabbed to death in their home more than two months ago will travel from China this month.
Helen Chui, her husband Jeff Ding and their two daughters were found murdered in their home in Wootton on 1 May.
Police have named a main suspect as Anxiang Du, a Coventry businessman, who still has not been traced.
He was last seen in London and police there have carried out door-to-door inquiries to gather information.
Det Sup Glyn Timmins, from Northamptonshire Police, has said he needs that one crucial piece of information to lead him to the suspect.
Sightings have come from other areas across the country but none has been confirmed as Anxiang Du.
Mr Timmins said: "We are very pleased that members of the Ding family are going to visit Northamptonshire in July and we will be talking them through the full police investigation.
"We still have a large team of people working on this and can say with confidence that we are leaving no stone unturned.
"I personally would like to be able to share further progress on the investigation with the family when they visit and we need the public's help to do this."
A Crimestoppers reward of £10,000 is being offered for anyone with information which leads to the arrest and conviction of the person responsible for the murders.
Mr Du, 52, is 5ft 9in tall, of slim build with thinning hair and regularly wears a baseball cap to cover his head.