Northampton River Nene enterprise zone planned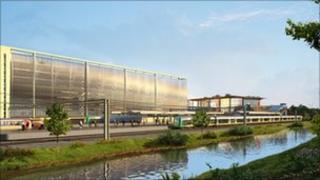 Thousands of jobs could be created in Northampton if the Government approves plans to set up an enterprise zone.
The South-East Midlands Local Enterprise Partnership (SEMLEP) wants to base the zone along the River Nene.
The aim is to attract high-performance engineering companies by offering tax breaks, high speed broadband and less planning controls.
Chair of SEMLEP, Brian Hibbert, said: "We found that the jobs growth offered by this proposal is deliverable."
The leader of Northampton Borough Council, David Palethorpe, said: "It will regenerate the town, but more importantly will put us at the centre of enterprise in the wider region."
The enterprise zone would run alongside the Nene from the Avon Headquarters past the gasometers up to Sixfields.
The proposal will be with the Government by the middle of July and a decision is expected from Whitehall by the end of July.