Wicksteed Park discussed in Parliament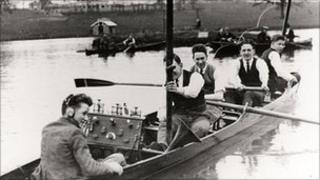 One of Northamptonshire's oldest attractions has been the subject of a debate in the House of Commons.
Wicksteed Park in Kettering, which is celebrating its 90th anniversary, was discussed by the town's MP Phillip Hollobone.
Mr Hollobone wants to raise the profile of the park which he feels needs some national recognition.
"It is the first park of its type and even today still has the largest free playground in the UK," he said.
The park, which is run by a charitable trust, recently bid for £742,000 in Heritage lottery money to restore it to its original layout.
Its owners claim it was the first leisure park with children's play equipment in the UK.
Trevor McHugh from Wicksteed said: "We want to emphasize the importance of the lake in the park and we are investing in improving access for the disabled."
As well as having fairground rides, the park also has educational facilities for local school children with a number of schools visiting each year.
"One of the events that the park holds each year is Bastille Day where they help to teach young people about modern languages," said Mr Hollobone.
The debate was chaired by Mr Hollobone who spent 15 minutes briefing the Tourism minister John Penrose about Wicksteed's achievements.
"I hope that by raising the profile of this park in a national way will help the park in the future," he said.