Northampton Ding family murder police meet community leaders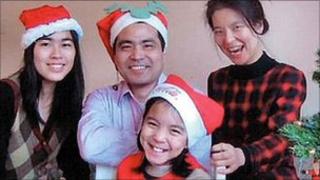 A team of detectives investigating the killing of a Northampton family-of-four has met Chinese community leaders in a bid to find the key suspect.
Jifeng Ding, his wife Helen and their two daughters, Alice, 12, and Xing, 18, were found stabbed to death at their Wootton home in May.
Northamptonshire Police has named Anxiang Du, 52, from Coventry, as the key suspect.
Police said 10 officers had been to China Town in London.
Detectives spent Monday meeting with community leaders and handing out leaflets to local people and local businesses.
The officers were assisted by officers from the Metropolitan Police and the Metropolitan Police Chinese Unit.
Police said Monday marked the start of a festival period in the Chinese calendar and officers wanted to take advantage of the increased number of visitors to China Town.
'Local support'
Det Supt Glyn Timmins said: "My officers spent the day in London speaking to Chinese people going about their business, and in shops and restaurants in the China Town area.
"Officers have made some useful contacts in the community and I was pleased to hear the levels of support we got from local people."
Other members of the investigation team continue to follow up sightings of Mr Du, none of which have yet proved to be the missing suspect.
Hours of CCTV are still being reviewed by officers who say they could contain valuable clues as to Mr Du's movements following his arrival in London in the early hours of 30 April.
Mr Du is an ex-business partner of Mr and Mrs Ding and is known to have travelled to Northampton and then Wootton on the afternoon of 29 April.
It is believed he then took the hire car from the family home and travelled to London where CCTV shows him leaving the car in Venables Street, St John's Wood, London, at 0227 BST on 30 April.
Police said with the last confirmed sighting in London, officers are focusing their efforts there as they try to trace Mr Du.
Crimestoppers has put up a £10,000 reward to find the person responsible for murdering the family.