Opposition to Northamptonshire street lights switch-off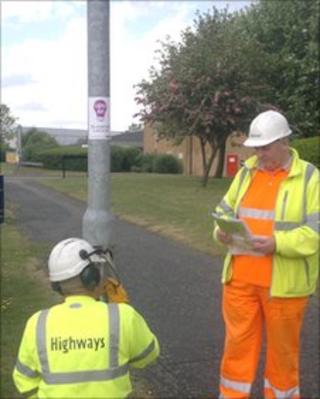 Half of Northamptonshire's 66,000 street lights are being switched off to help the county council save money.
The council says the measure will save £2m, but critics say that turning off the lights is fundamentally dangerous.
There are also claims that crime and accidents have already increased.
The first light in the county to be turned off was on the Earlstrees Industrial Estate in Corby and in the town's industrial areas the majority of lights have now been turned off.
Each one is marked with a sticker. In residential areas half of the lights are now off, but the district councils and some residents are far from happy.
Janet Hadden of Ibsen Close in Corby claims she fell and broke her leg because of the darkness.
'Just darkness'
She says that when she walked back from visiting her sister she was taken aback by how dark it was.
"I was quite frightened, they've got posters on the lamp-posts saying lights are turned off, but they haven't even fixed the ones that weren't working so it's just darkness," she said.
Corby borough council deputy leader Mark Pengelly is angry that the county council did not consult Corby borough councillors about switching off lights.
"I've been round the whole of the town after dark and it's horrific here," he said.
"People are saying where there's not been crime before crime is now happening."
Jim Harker, leader of the county council, has defended the switch-off.
He said people needed to understand that the council had to make big savings in its budget.
"When it comes to saving £70m a year you have to go down to what you actually have to do as a local authority," he said.
Mr Harker also pointed out that the statutory requirement for the county council to provide lights was limited.
"I'm not required to make lights available for community safety or stop crime though obviously we would wish to do that, but my statutory requirement is to provide for road safety," he said.
The county council claims that it has talked to both road safety experts and the police before proceeding with switching any lights off.
It has offered to revisit areas after dark to check whether any changes need to be made.
Meanwhile its workforce has moved on to other parts of the county.
Wellingborough has yet to be visited by the switch-off team, but anti-cuts campaigners there have launched a sponsor-a-streetlight scheme, and are putting their own stickers on lights.