Ding family murder: Inquiry into 999 call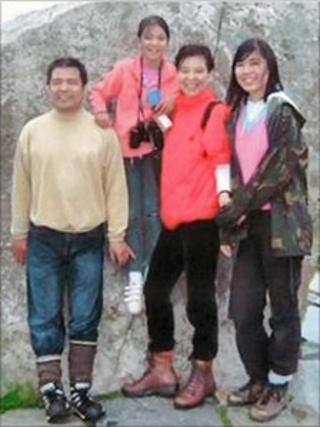 A 999 call believed to have been made as a Northampton family was being murdered in their home is being investigated by the police watchdog.
Jifeng Ding, his wife Helen and their two daughters were found stabbed to death at their Wootton home.
Northamptonshire Police said they had referred the response to an abandoned 999 call on 29 April to the Independent Police Complaints Commission.
The suspect in the case Anxiang Du, 52, has not been seen since 29 April.
Police believe Mr Ding, his wife and the children, Alice, 12, and Xing, 18, were killed on 29 April. Their bodies were found two days later.
A statement from the watchdog said: "The IPCC can confirm we are independently investigating one aspect of Northamptonshire Police involvement in this case.
"With police efforts properly focused on the murder investigation and tracing a suspect in the case, we are unable to give further information at this stage."
Mr Du, who had business dealings with the Ding family, disappeared from his Coventry home on 29 April.
CCTV images show him arriving by train at Northampton before getting on a bus to Wootton.
The investigation moved to London last week when the missing family's Vauxhall Corsa hire car was found in St John's Wood.
Northamptonshire Police, who believe Mr Du travelled to London, said they have CCTV footage of a man matching his description in the capital.
Crimestoppers has put up a £10,000 reward to find the person responsible for murdering the family.
The case is due to be featured on BBC Crimewatch on 24 May.