Ding family murder suspect seen on CCTV in London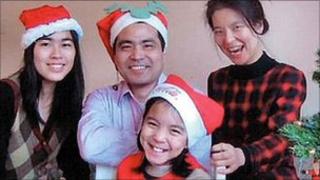 The prime suspect in the killing of a family of four in Northampton is believed to have been seen on CCTV footage in central London.
Northamptonshire Police said a man matching the description of Anxiang Du, 52, was seen on 30 April on Venables Street, off the Edgware Road.
Jifeng Ding, his wife Helen and their two daughters were found stabbed to death at their Wootton home on 1 May.
The family's rented Corsa was found on Venables Street, London, on 11 May.
Police believe Mr Ding, his wife and the children, Alice, 12, and Xing, 18, were killed on 29 April.
They are trying to trace the main suspect in the case, Mr Du, who has disappeared from his Coventry home since the deaths.
The investigation moved to London last week when the missing family's Vauxhall Corsa hire car was found in St John's Wood.
Northamptonshire Police, who believe Mr Du travelled to London, said they have CCTV footage of a man matching his description in the capital.
Crimestoppers has put up a £10,000 reward to find the person responsible for murdering the family.
Dave Cording, from the Crimestoppers charity, said: "This is a heinous crime, four members of a family were murdered at their home.
"Our thoughts are with friends and those close to the Ding family after this horrific incident.
"We want to help catch those responsible and we hope by funding this reward we will play a part in securing more information to support the police investigation."
The case is due to be featured on BBC Crimewatch on 24 May.