Northampton murders timeline created to jog memories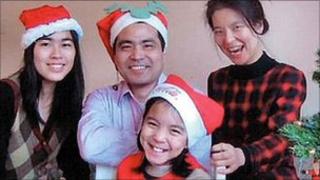 A timeline has been released tracing the possible movements of a businessman suspected of killing a family of four in Northamptonshire.
Anxiang Du, 52, is wanted in connection with the murders of Jifeng Ding, his wife Helen and their two daughters.
The family were found stabbed to death in their home in Northampton on 1 May.
The investigation moved to London when the family's Vauxhall Corsa hire car was found in St Johns Wood. Police released the timeline to jog memories.
Police said witnesses continue to report sightings of the Coventry businessman across the country but he still remains at large.
The suspect is thought to have used the hire car to flee the scene after the murders, which are believed to have taken place on 29 April.
'Cast minds back'
Det Sup Glyn Timmins said: "Anxiang Du seems to have 'gone to ground' but someone must know where he is.
"I am asking members of the public to cast their minds back to the day of the Royal wedding and think about what they were doing on the day.
"I'm hoping the following timeline will help jog people's memories."
The timeline gives rough times of Du apparently leaving his home in Coventry, travelling to Birmingham New Street Station, then arriving in Northampton by train.
There he is thought to have gone from the train station to the town's bus station, and caught a bus to Wootton where the Ding family lived.
The family were killed during the late afternoon.
He is then thought to have driven to London using the missing Corsa which was seen at services on the M1 that evening.
The vehicle was found in Venables Street, Westminster, on 11 May.