Christians in Northampton take faith to the streets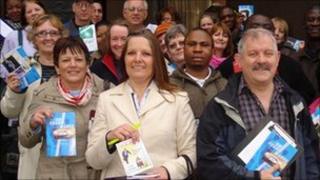 Christians in Northampton are coming together to share their religion with people in the town.
Faith in the Streets, which is in its fifth year, sees the congregation of more than 15 churches walking around the town centre and speaking about their faith.
The walk is taking place from 10 to 11 June, which is the eve of Pentecost, the gift of the Holy Spirit.
There will also be an information stand at the top of Abington Street.
Colette Barron, from World Mandate Ministries, is taking part in the event.
"God said, 'Go out into the highways and byways and compel people to come into my house that it may be filled,'" said Ms Barron.
"So we need to go out into the streets and make sure everyone knows about him."
They will also offer literature and leaflets on each different local church taking part.
"We are looking for people to have eternity with God and want them to know what Jesus has done for them," said Ms Barron.