Murdered Northampton family's Christmas photo released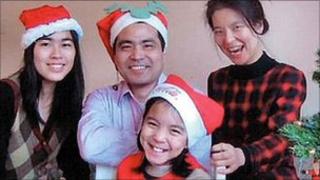 Relatives of a family of four killed in their Northampton home have released a Christmas photo of them and urged people to help police solve the crime.
Lecturer Jifeng Ding, his wife Helen and their two daughters Alice, 12, and Xing, 18, were found stabbed to death in Pioneer Close in Wootton on 1 May.
Businessman Anxiang Du, 52, is wanted in connection with their murders.
Relatives of the Ding family urged people to help find Mr Du and spoke of their pain and shock at the deaths.
Bright talented children
Police issued the photograph of the Ding family taken at Christmas and a statement by their relatives.
It said: "We are shocked and saddened to lose our family members in such a violent manner.
"Jifeng and Ge were in the prime of life and had much to offer. Xing and Alice were bright and talented children who had their lives in front of them.
"To have our family taken away from us in this way is unbearably painful.
"This was a loving, decent family working hard and doing no harm to anyone; no-one deserves to die in such a way."
The family went on to appeal to people, especially those in Chinese communities in the UK, to help the police in Northampton to find suspect Mr Du.
He left his home in Coventry at 1030 BST on 29 April and was seen arriving at Birmingham New Street Station at 1122 BST that day, before being spotted at Northampton Station at 1235 BST.
'Unnecessary ferocity'
Det Supt Glyn Timmins said: "This is a shocking and brutal murder of a family with everything to live for.
"Having worked in the major crime environment for a number of years even I am appalled by the unnecessary ferocity used in the slaughter of a family in the place where they should have been safest - their home.
"I would implore members of the public to be vigilant, especially in terms of locating the Vauxhall Corsa, BG60 PMO."
Mr Timmins reassured potential witnesses they would be treated carefully and sensitively.