WWI Battle of Loos football conserved in Northampton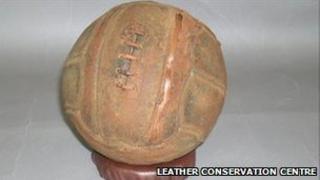 Leather experts in Northampton have conserved a football that dates back to World War I.
The Leather Conservation Centre said the ball, thought to have been at the Battle of Loos in 1915, was in pieces when it first arrived.
Head conservator Yvette Fletcher said: "You could still see it was a football, but it had a lot of complex splits and tears."
The football is now back on show at the London Irish Rifles Museum in London.
Historians have said that at the start of the Battle of Loos in 1915, Allied troops planned to kick footballs into the German trenches as they advanced across no-man's-land.
However, officers disapproved of the plan and deflated all but one of the balls.
Barbed wire
It is thought that ball was the one which has been conserved in Northampton.
"It ended up on barbed wire and after the battle it was retrieved and brought back to this country," said Mrs Fletcher.
The team spent most of its time conserving as much of the original leather as possible.
Mrs Fletcher said: "The leather was consolidated and the acid deterioration treated. Then the splits and tears were patched using new archival quality leather, dyed to match the original."
The football is now back on display in the Camberwell regimental museum.