Northampton Chinese restaurant staff held in raid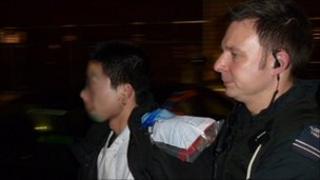 The head chef and three other members of staff at a Northampton restaurant are facing deportation after being arrested in an immigration raid.
The UK Border Agency raided Mandarin Buffet, in Octagon Way, on Wednesday evening.
Checks revealed that three Chinese men, aged 24, 25 and 42, and one 37-year-old man from Indonesia were working at the business without permission.
The agency said it was working to remove them from the country.
The restaurant faces a potential fine of up to £40,000 if it is found to have not carried out the correct pre-employment checks.