High Court rules Asbo cross dresser was wrongly jailed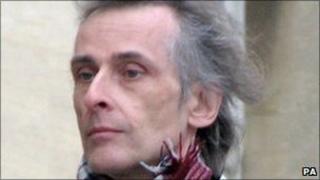 A man who upset children by dressing up as a schoolgirl was wrongly jailed by magistrates, the High Court has ruled.
Peter Trigger, of Northampton, received an Anti-social Behaviour Order (Asbo) in 2008 banning him from showing bare legs when children arrived for school.
The 60-year-old was later given a suspended sentence for breaching the Asbo and the sentence was activated last October.
Two judges said the case involved a "sorry catalogue of errors".
They added there had been "a series of sentencing mistakes".
Trigger, of Thorplands, was given the five-year Asbo in 2008 for conduct which included wearing a school uniform with short skirt and bending over to reveal his bare legs.
Sex offender programme
He was found to be waiting outside a local primary school as children walked to and from their lessons.
He was also banned from behaving in any manner causing harassment, alarm or distress.
In February 2009 he was convicted of exposure and given a suspended sentence of 12 weeks' imprisonment, suspended for three years.
He was also required to complete a sex offender programme and register with the police for seven years.
He was convicted of breaching his Asbo in May last year, which put him in breach of his suspended sentence order, and was given a fine.
In October, Trigger was fined for failing to comply with notification requirements under the Sexual Offences Act 2003.
The suspended sentence was also activated, with Trigger being ordered to immediately serve eight weeks of the 12-week sentence.
But his appeal to the High Court was successful when Lord Justice Moore-Bick and Mr Justice Ramsey ruled the jailing order was not valid.
They ruled the magistrates had erred "in failing to take account of matters that were relevant to the decision whether to vary the claimant's sentence 20 months after it was originally passed".