Man in A45 crash with lorry in Northamptonshire named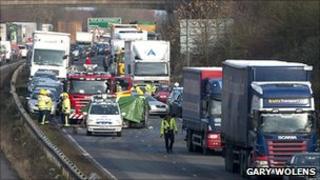 An elderly man who died after his car was struck by a lorry on the A45 in Northamptonshire has been named by police.
Robert Knight, 77, from Cogenhoe, died when his grey Suzuki Jimny was hit by a LGV at noon on Thursday.
He was the only person in the vehicle and no one else was injured.
Police said they believed the man's car, which was in the nearside lane, was stationary at the time of impact.
The crash near Wellingborough blocked the westbound carriageway for several hours.