Man dies in A45 crash with lorry in Northamptonshire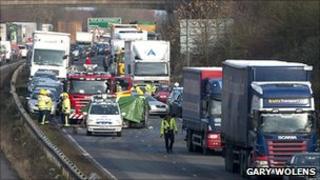 An elderly man has died after his car was struck by a lorry on the A45 in Northamptonshire.
Police said the man, who was 77 and local, was thought to be in a stationary grey Suzuki Jimny when it was hit by a LGV.
The crash happened in the nearside lane of the westbound carriageway between Wilby Way, Wellingborough, and the Earls Barton turn at about 1200 GMT.
The carriageway became blocked and was closed to traffic for four hours.
A third vehicle, a grey Audi A5, was struck by debris and sustained minor damage.
Its driver, and the driver of the LGV, were uninjured.
The man in the Suzuki was the sole occupant and was declared dead at the scene.
Anyone with information or who witnessed this incident is asked to call Northamptonshire Police.