World conker games crisis averted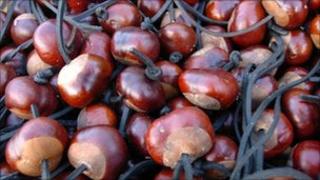 A crisis in this year's World Conker Championships has been averted after a call for "good-sized" nuts was made.
The competition in Northamptonshire was threatened by a shortage of conkers when disease and pestilence blighted the trees on which they grow.
Organisers at Ashton Conker Club in Polebrook sent out an SOS when local trees only produced small nuts.
Club secretary John Hadman said there were now enough big conkers for the 360 entrants to fight it out for the title.
Now in its 46th year, the 360 players from 17 countries will compete for the title next Sunday.
'Out of the playground'
Unlike in the school playground version of the game, the pastime's 11 rules are strictly observed.
These include a ban on reusing conkers from earlier games and disqualification of any player who causes a knotting of the laces three times.
Mr Hadman said: "We've taken the game out of the playground and turned it into a spectator sport.
"With the Commonwealth Games now upon us, who knows conkers might even be included next time."
The Campaign For Real Conkers warned of a possible conker shortage last month following poor August weather.
Many have fallen from trees before they are ripe enough to be used for the popular pastime.