Northamptonshire council plans solar panel home energy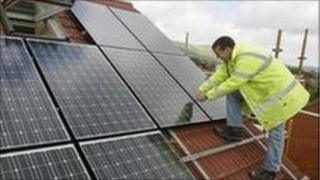 Plans to put solar panels on the roofs of council houses in Corby to provide a cheap form of energy are expected to move forward on Tuesday.
Councillors are being asked to open the door to energy firms, asking them to bid to supply and install the panels.
Corby Borough Council said energy supply and installation companies from across Europe had already been contacting them to explore the idea.
The council wants to use a government scheme to generate renewable energy.
"Solar panels would be placed on the roofs of suitable council houses," a council spokesman said.
"These turn the sun's rays into electricity providing free power to tenants during daylight hours.
"Installation would be paid for by the energy companies."
On Tuesday, councillors will be asked to start the procurement process so that the solar panels can be installed as soon as possible.