Woman killed as she herds cattle in Northamptonshire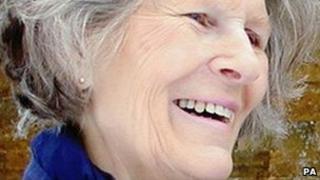 A 74-year-old churchwarden died when she was knocked to the ground as she herded cattle in a Northamptonshire village.
Margaret Wrathall, from East Haddon near Northampton, was moving the animals on Tuesday, when one broke loose and pushed her over.
She was taken to Walsgrave Hospital but had suffered fatal injuries.
It is believed Mrs Wrathall had been trying to load the animal on to a trailer.
A widow, Mrs Wrathall leaves four daughters and six grandchildren.
Her family said she kept a range of animals from bantam hens to cattle and was known for her fundraising - arranging fetes, dog shows, and bridge drives for village and local charities, including the air ambulance.
'Dedicated'
In a statement, Mrs Wrathall's family said she died at teatime on Tuesday following the "freak accident".
They said: "Whilst routinely herding cattle, one animal broke loose and knocked her to the ground.
"She sustained immediate fatal injuries and was airlifted to Walsgrave Hospital, but had already died."
Mrs Wrathall was a keen horsewoman who rode with the Pytchley Hunt, as well as being an instructor for the charity Riding for the Disabled for 40 years.
Rev Sue Kipling, rector of the Spencer Benefice, which includes East Haddon, said: "She was dedicated to the village and the church community, serving as a churchwarden for many years.
"If she felt anyone was in need of support, she would be there, perhaps with new-laid eggs or a jar of home-made marmalade."
An impromptu service was held for Mrs Wrathall in the village on Wednesday. Her funeral is due to take place next Thursday.