Corby construction firm jobs at risk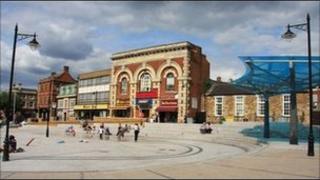 A Northamptonshire construction company has gone into administration leaving 113 jobs at risk.
Weldon Plant in Corby said its overdraft with Royal Bank of Scotland (RBS) was cut from £3.15m to £2.2m "without justification".
Weldon's chairman, Peter Webb said: "This decision has not been taken lightly. We know how many individuals and families will be affected."
RBS said it was working with the firm to resolve the issue.
A bank spokesperson said: "We are making a sustained effort to work with Weldon Plant Ltd to address its current issues."
The MP for Corby and East Northamptonshire, Louise Bagshawe, has written on behalf of Weldon to RBS.
She asked why a state-owned bank was not lending to a "chiefly successful business".
She said in the letter: "We are at a crucial stage of the recovery in the UK economy, and we cannot afford to rush the closure of companies such as Weldon Ltd, which employs significant numbers, and delivers untold benefits to the local economy and community."
The civil engineering company has been trading for 30 years and has built many public parks and open spaces.