Kettering Hospital extension gets go-ahead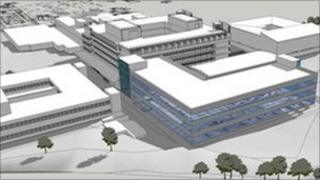 A £30m extension of Kettering General Hospital in Northamptonshire has been approved by the government.
The block, due to open in 2012, will provide an improved environment for the care of children, an expanded intensive care unit and a new ward.
The intensive care unit in the new three-storey block will have 16 beds, including two isolation rooms.
The hospital trust got full planning permission for the development from Kettering Borough Council on 1 March.
The new extension will boast an integrated children's unit with 32 beds, including surgical and medical wards. Adolescent patients will have a dedicated area.
Kettering General Hospital's director of strategy and partnerships, Mike Smeeton, said: "We are very pleased that this very important new development for Kettering General Hospital has been approved by the government.
"This means we can now go ahead and build this important £30m expansion to the hospital's facilities bringing significant improvements - particularly in terms of expanding our intensive care facilities and improving our facilities for children."