Euro 2022: Lioness Lauren Hemp welcomed home in North Walsham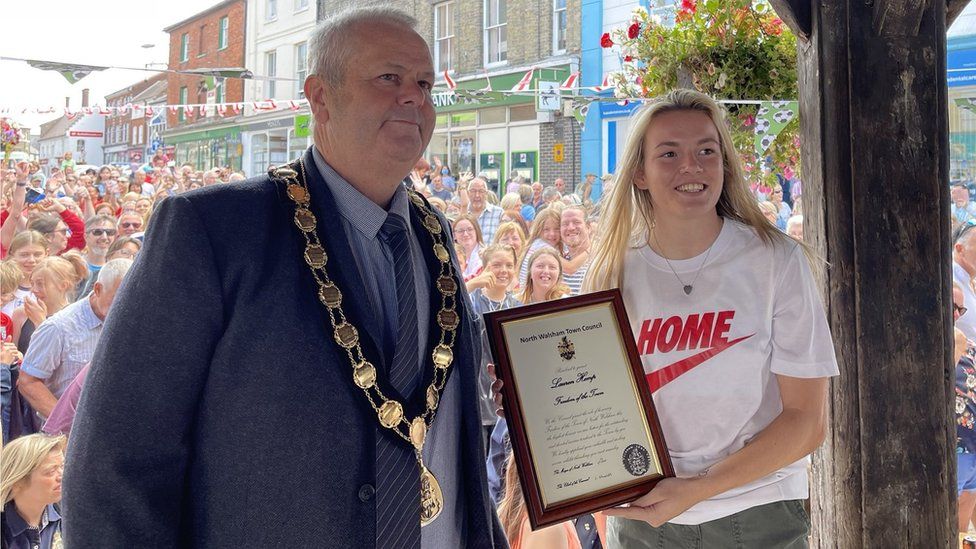 Hundreds of people turned out to welcome back one of England's Lionesses as she returned to her home town for the first time since winning Euro 2022.
Lauren Hemp was honoured with the Freedom of the Town on her return to North Walsham, Norfolk.
She said it was "incredible" so many people welcomed her back, and it showed the support for women's football.
The winger said: "I didn't expect this many people to turn up to be honest, it's unbelievable.
"I've had an amazing few weeks and I think this tops it off as well, especially getting the home support, it just shows so many people are interested in the women's game and that's what we want to have."
Hemp, who used to play for North Walsham and Norwich City football clubs, now plays for Manchester City.
She made six appearances for England during the tournament.
Her mum Julie said it was "amazing" to see such a turn out for her daughter in North Walsham and that she was "so proud of her".
Football fan Chloe, 14, who was in the town to see Hemp, said it was "so good" to see her success.
"It just proves that, even if you're from the smallest area, you can still get into the game," she said.
Jamie, 12, said the Lionesses' win was "so inspiring".
She said: "It means a lot to me. Sometimes women are treated unfairly because of their gender, which I don't think is fair at all.
"Women can do exactly what men can do and to see the women be more successful than the men, as in winning, is just amazing."
Conservative MP for North Norfolk Duncan Baker said: "Lauren's return to North Walsham was absolutely fantastic to see, she has been such an inspiration to so many young people.
"To have one of the world's best female football players return to see everyone, who grow up in the town and who started off life playing for the local football club, has brought this whole community together."
Related Internet Links
The BBC is not responsible for the content of external sites.