North Walsham drag queen story hour disrupted by protests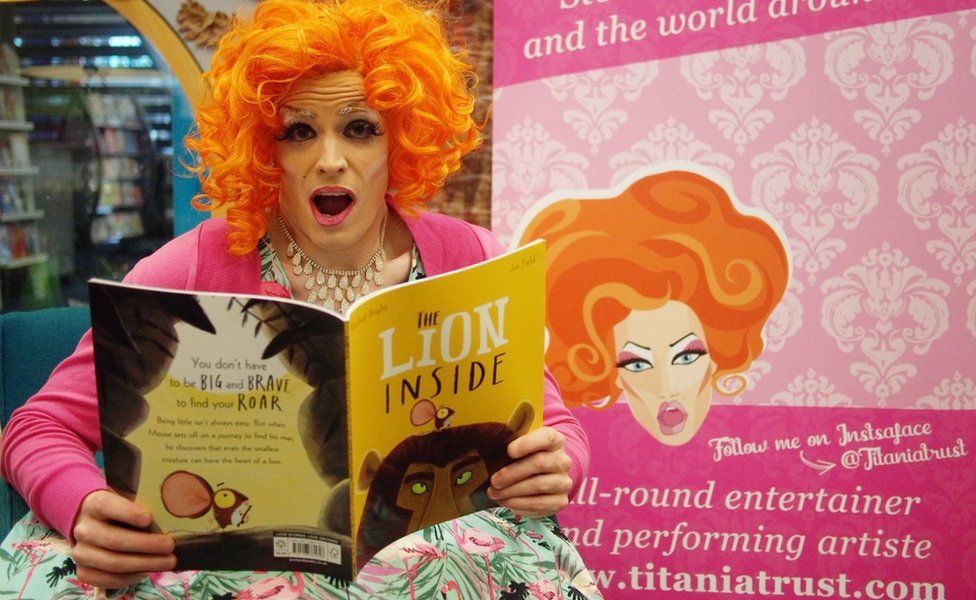 An event where a drag queen was due to read to children in north Norfolk was postponed after protests outside.
Titania Trust had been due to read a story to children at North Walsham Library on Tuesday.
Norfolk County Council said it decided to postpone the event following safety concerns.
The county's police force said officers "engaged with two people who were protesting peacefully" at the New Road library.
Drag Queen Story Hour, a UK-wide initiative, started seven years ago with the aim to "inspire a love of reading, while teaching deeper lessons on diversity", but critics claim it is sexualising children.
Joseph Ballard, who has performed as Titania Trust since 2011, said: "I was utterly disappointed, I've been doing Story Hour for a number of years, I've been up and down the country, and sometimes you get messages and threats but nothing of this scale.
"This has happened on my home turf, in North Walsham, my old hometown."
Margaret Dewsbury, the county council's cabinet member for communities and partnerships, said they were "very disappointed" to have to postpone the event.
She said: "Titania Trust has delivered story time events at other locations, including the Millennium Library in Norwich, and always received a warm welcome and positive responses from children and families alike.
"However we always put the safety and wellbeing of our service users first and sadly the acts of a small number of people have forced us to postpone on this occasion."
Related Internet Links
The BBC is not responsible for the content of external sites.