Oxburgh Hall: Restoration reveals craftmanship of 15th Century manor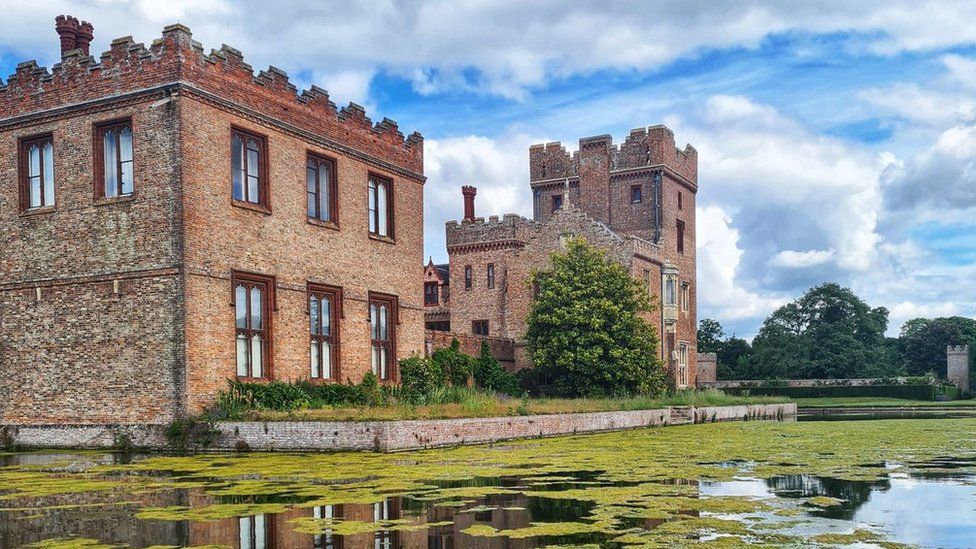 The team behind the restoration of a 15th Century stately home says the work has yielded "thousands of rare archaeological finds".
The six-year, £6m project at Oxburgh Hall, near King's Lynn in Norfolk, has come to an end with the removal of scaffolding from the historic building.
It included an overhaul of the roof and gatehouse, the National Trust said.
Project manager Dave White said: "It's amazing to see how far we've come and the building now scaffold-free."
The manor house had 14,000 roof tiles, 27 chimneys and 14 dormer windows replaced, after an investigation found weaknesses in the roofline when a dormer window unexpectedly collapsed in 2016.
The work used 31 miles (50km) of scaffolding poles, while 650 tonnes of sandbags protected the fragile moat and building fabric, and a 3D printer helped produce special bricks.
Mr White said: "Working on historic buildings can often throw up its challenges when you start to lift the lid on what lies beneath.
"Added to that, we were reaching a critical point with the roof off, just as the coronavirus pandemic first hit.
"The craftsmanship on full display and Oxburgh's future has been secured."
During the project, historic wallpaper was found in the attics and "thousands of rare archaeological finds" secreted under the floorboards.
In two ancient rat nests, a page from a rare 15th Century illuminated manuscript, fragments of late 16th Century books and Elizabethan textiles were discovered.
Additionally, the project has helped reveal there could have been another building on the site before Oxburgh Hall.
The restoration of the gatehouse - the oldest part of the 500-year-old building - now features an immersive experience.
Visitors can discover what life was like during the era for many Catholic families, including Oxburgh Hall's devout Roman Catholic Bedingfeld family.
Their support of Catholic Mary I in her claim to the throne gave them power and prestige, but their fortunes waned when Protestant Elizabeth I succeeded her.
Raids were carried out on leading families who refused to attend Church of England services, with research revealing Harry Bedingfield's "home" - believed to be Oxburgh Hall - was searched in 1590.
As well as holding the Marian Hangings - embroideries by Mary Queen of Scots and Bess of Hardwick, the Hall contains a priest hole, concealed beneath a trap door, where clerics would have hidden during searches.
Property curator Lynsey McLaughlin said: "Visitors will be able to step back in time to discover how the King's Room would have looked after it had been raided and searched for evidence of Popish activity.
"Using an inventory from 1585 and with the help of specialist craftspeople to recreate the scene of a raid, volunteers will tell the story through the eyes of those who experienced it, helping to bring it to life on a very personal and emotive level."
Related Internet Links
The BBC is not responsible for the content of external sites.