Marriage proposal fail as ring bounces into Watton lake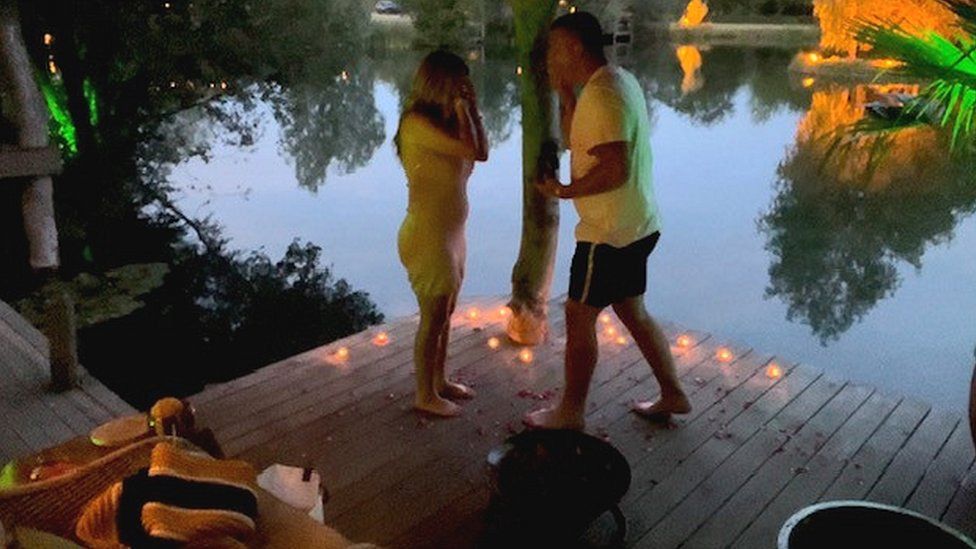 A marriage proposal in a romantic lakeside setting went horribly wrong when the groom-to-be dropped the ring through decking and into the water.
Ross Bamber had set up a camera to record the perfect moment with partner Gerii Ashforth at the Norfolk lake.
The camera captured everything, including the sound of the ring bouncing out of sight and his partner, who still had her eyes closed, saying: "That's not what I think it is, is it?"
The couple, from Costessey near Norwich, had hired a luxury shepherd's hut and deck at Wispy Meadows in Watton, where Mr Bamber planned to surprise his partner.
The 26-year-old had meticulously planned everything and as candles flickered on the deck and the sun set over the lake, he led his partner out with her eyes covered.
And that is when it went wrong.
"I led Gerii out and as I opened up the box, the ring was just saying 'No', really," Mr Bamber said.
"I watched it as it was bouncing along the decking and it sat on the edge of one of the decking boards, and I thought, 'Wow' - and then it literally plopped in."
Ms Ashforth, 23, said she had a "slight inkling" that her partner was about to propose, but this was not what she expected.
"I heard it bounce, and thought, 'Please, that can't possibly be the ring...' - my heart dropped," she said.
Friends came over and "went in with swimming shorts and goggles on, but they couldn't find the ring," said Mr Bamber.
They even tried a magnet, but the ring was white gold so that did not work, he said.
The following day the couple went into Norwich and bought another ring, and recreated the scene for the camera.
This time the ring behaved and the couple are now engaged.
They posted videos of the proposals on TikTok and between them they have received millions of views, which Ms Ashforth described as "crazy".
Mr Bamber said the owner of the lake complex was "very happy for us to go back and try to retrieve it - he's all for helping us".
The couple have not given up hope of finding the ring - they have been in touch with friends with underwater metal detectors, but Mr Bamber joked: "We might have to get a scuba diver in."
Related Internet Links
The BBC is not responsible for the content of external sites.