Norwich teen wins engineering award for eco-friendly tent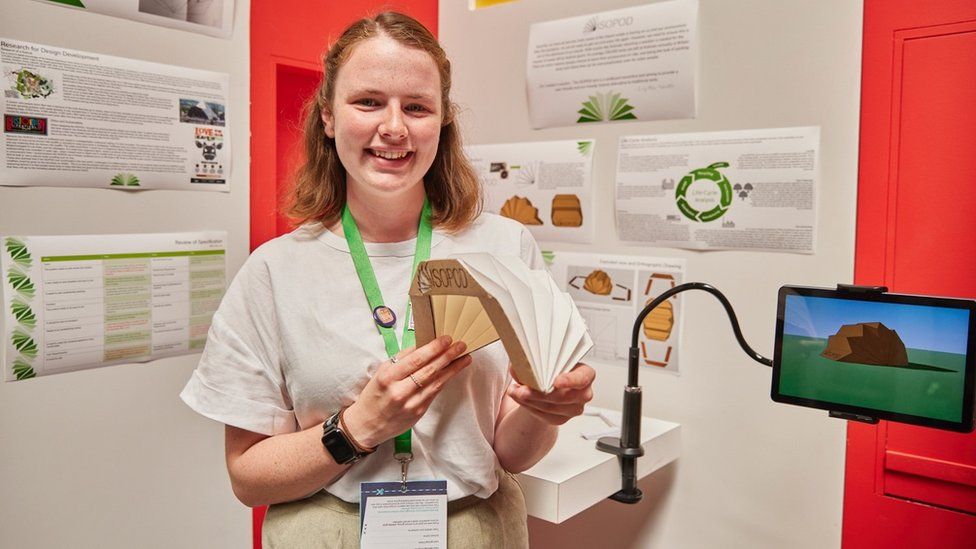 As Glastonbury Festival returns, a 17-year-old girl has won an engineering award for her "eco-friendly" cardboard tent design.
Lily-Mai Spinks, 17, from Norwich, Norfolk, came up with the idea after seeing the images of "a sea of tents" left behind after festivals.
Her waterproof design won the senior engineering award at the Big Bang Fair.
Lily-Mai said she hoped her "Isopod" creation would "reduce the impact" festivals have on the environment.
"Most traditional tents used at festivals get used once and people just tend to leave them there," she said.
"The plastic they're made of can take up to thousands of years to biodegrade, whereas cardboard can biodegrade quickly and can be recycled to make more Isopod tents."
Lily-Mai said she wanted to create "an alternative" to the plastic tent.
"What inspired me mainly was when you see on the news the scenes left after festivals," she said.
"It's just a sea of tents and the impact that's going to have on our environment has to be huge."
Lily-Mai said she came up with the design after folding paper in various ways until it created a "dome shape" she desired.
The Big Bang UK Young Scientists & Engineers competition aims to recognise and reward young people's achievements in all areas of science, technology, engineering and maths (STEM).
Organisers said Lily-Mai's design aimed to "provide a user and eco-friendly festival camping alternative".
Lily-Mai was presented with her award at the Big Bang Fair at the NEC in Birmingham on Wednesday.
Related Internet Links
The BBC is not responsible for the content of external sites.