Last flock of rare godwits released in 'emergency lifeline' bid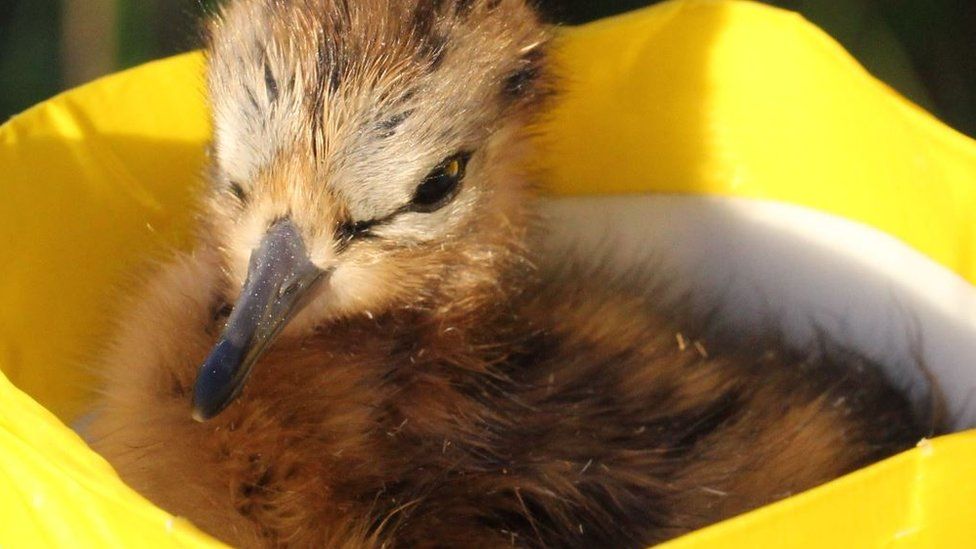 A flock of rare hand-raised birds will be released for the final time after the species was thrown an "emergency lifeline", a charity has said.
Eggs from the endangered birds have been specially collected and incubated, with the chicks hand-reared.
WWT's Eric Heath said the success was "testament to the effort put in".
Experts from both WWT and the RSPB created Project Godwit, which used a technique known as "head-starting" - raising young birds from eggs, collected in the wild with a special licence.
The latest - and last - release meant more than 200 head-started birds have now been freed onto the Ouse and Nene Washes in Norfolk and Cambridgeshire.
These were the two main breeding sites for black-tailed godwits in the UK.
More than 50% of all breeding pairs included one or two head-started birds, according to data collected over the last five years.
At the start of the project, there were fewer than 50 pairs of godwits breeding in the UK as they had struggled to hatch and raise their chicks in safety.
WWT project manager Mr Heath said: "We've worked incredibly hard over the past six years to hatch, carefully nurture, and release so many godwits.
"It's really encouraging to see the results of this work, knowing that the numbers are definitely heading in the right direction.
"However, none of us are feeling complacent and we have a long way to go until we can say the black-tailed godwit is safe.
He added that they were now working with farmers, landowners and communities to create more wetland habitat.
Project Godwit has also been enhancing grasslands, examining threats to the birds and trialling other conservation methods to help increase survival rates.
There has been a decline in wading birds across Europe, with loss of habitat, unfavourable land management, predator rates and the impact of climate change, the charity said.
Until now, the godwits' breeding success in the wild was too low to support a stable population.
RSPB project manager Rebecca Lee said: "There are huge concerns for our waders at the moment, but also many reasons to be hopeful.
"We have some very special habitats in the UK that waders need.
"Working together with government and local communities we have a real chance to save and restore this important habitat, bringing benefits not just for our birds but for people too."
Related Internet Links
The BBC is not responsible for the content of external sites.